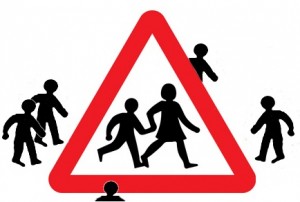 The Equality and Human Rights Commission has found a wide range of problems with the way matters of religion and belief are negotiated in British schools. Last week it published it findings from a 2014 public consultation into how the laws around religion and belief were working, to which it received hundreds of responses in regards to education.
Issues highlighted included concern over how religiously selective admission policies were advantageous and disadvantageous to people with particular religious beliefs, about unbalanced religious or non-religious curricula in teaching, and reports of insensitivity and bullying at schools of those with committed religious and non-religious views. Some the issues found were emphasized with the release of a range of anonymised testimonials, some of which we repeat below:
A pregnant Humanist teacher working in a Catholic school recounted that:
'As an unmarried woman, I was told I was not allowed to talk to the children about my 'condition', and that I would struggle to gain a promotion in any local school. I was also advised to wear a pretend wedding ring. I didn't do this. I applied for other jobs and now work in a non-faith school.'
An atheist parent spoke of the incentive to attend Church so as help a child attend a popular local school:
'We felt compelled to go through the ridiculous charade of joining a local church, attending regular Sunday services, and getting our children baptised for no other reason than to improve our ranking on the selection list for our local Grammar School … We are playing their game.'
Two testimonies of staff disparaging the beliefs of pupils below were revealed:
 'My son, aged eight, was called over by a Dinner Lady and asked if he believed in God. When he said no she told him he didn't deserve any Xmas presents. I made a written complaint to the Head Teacher, but was told the dinner lady had said her comments were a joke and she was not able to discuss the incident further.'
'The teacher replied that people who are 'religious nutters' are those who believe that God created the universe. [My daughter] told him that as a Christian she believes that God created the universe to which the teacher ridiculed her in front of the class.
Chair of the Accord Coalition for Inclusive Education, Rabbi Dr Jonathan Romain, said 'The state funded school system should be fostering the values we all share and promoting mutual understanding and respect. There are many things that can be done to improve matters, including taking action and showing leadership around bullying and discriminatory attitudes; providing a balanced RE curriculum, and operating non-religiously discriminatory employment and pupil admission policies.
'However, if we are really serious it must also include a cultural shift, where schools are seen as shared spaces that seek to be open and suitable for those from all backgrounds, regardless of their religious or non-religious beliefs. The problems highlighted in the report – which are effecting staff, pupils and their family all over the country – will not be sufficiently tackled as long as children are withdrawn into separate schools catering for those of certain beliefs.'