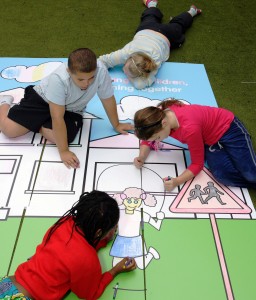 A new survey has found overwhelming support for children mixing with those of different ethnic or religious backgrounds. The YouGov poll, conducted last month for the integration charity The Challenge, found that 64% of UK adults agreed (to 11% against) that "Every school child should participate in group activities with children from different faith/ ethnic backgrounds to their own, either in school and/ or in their local community".
Chair of the Accord Coalition for Inclusive Education, Rabbi Dr Jonathan Romain, said 'Ethnic segregation in the school system creates conditions where mistrust and alienation can more readily grow, whereas social integration flourishes when people of different backgrounds are schooled together. Integration is good for individual pupils, better preparing them for fulfilling life in a diverse society, and it is good for wider society, which is more cohesiveness, prosperous and secure and as result.'
'It is therefore very encouraging that there should already be such widespread public support for ethnic mixing among pupils. It should be promoted more enthusiastically by government by making all state funded schools are made open and suitable for all children, regardless of their or their parents' religious or non-religious beliefs. In so doing practices by faith schools, such as providing a narrow education about religion and belief, and selecting pupils on religious grounds, should be brought to an end.'
The latest poll echoes earlier findings showing popular opposition to schools religiously discriminating against children. A ComRes poll in 2012 commissioned by Accord found nearly three-quarters of the British public (73%) agreed that 'state funded schools, including state funded faith schools, should not be allowed to select or discriminate against prospective pupils on religious grounds in their admissions policy'. A YouGov poll from 2009, also commissioned by Accord, found that 57% of people 'agreed or strongly agreed' that 'state funded schools that select students by their religion undermine community cohesion', while only 19% 'disagreed' or 'strongly disagreed'.
Notes
YouGov asked 'To what extent do you agree or disagree with the following statement? Every school child should participate in group activities with children from different faith/ ethnic backgrounds to their own, either in school and/ or in their local community". 26% 'strongly agreed', with 38% recording that they 'tend[ed] to agree]. Of the 11% opposed, 7% recorded that they 'tend[ed] to disgree', with 4% 'strongly opposed'. 21% 'neither agree[d] nor disgaree[d].
YouGov interviewed 2,092 UK Adults between 19th and 20th November 2015. Data was weighted to be demographically representative of all UK adults aged 18+. YouGov is a member of the British Polling Council and abides by its rules. The full survey results and field work data can be found at https://d25d2506sfb94s.cloudfront.net/cumulus_uploads/document/yaviwesgx1/Results-for-The-Challenge-Statement-Test-20112015.pdf.
Evidence base showing positive contribution to social integration from ethnic mixing in schools
Academic research has consistently pointed to ethnically mixed schools making a strong contribution towards promoting better cohesion. For example, among the key findings of the 2006 paper 'Social Capital, Diversity and Education Policy', by Professor Irene Bruegel of the London South Bank University were that:
'Friendship at primary schools can, and does, cross ethnic and faith divides wherever children have the opportunity to make friends from different backgrounds. At that age, in such schools, children are not highly conscious of racial differences and are largely unaware of the religion of their friends. These findings speak against policies promoting single faith schools, since such policies are likely to lead to reduced ethnic diversity in schools.' (p2)
In the 2008 Economic and Social Research Council paper 'Identities in Transition', Brown, Rutland & Watters found that:
'… the effects of school diversity were consistent, most evidently, on social relations: higher self-esteem, fewer peer problems and more cross-group friendships. Such findings show that school ethnic composition can significantly affect the promotion of positive intergroup attitudes.' (p9).
In the 2014 study 'Contextual effect of positive intergroup contact on outgroup prejudice', Christa and Schmid et al. assessed evidence from 'across seven large-scale surveys' finding that:
"Contact does not merely change attitudes on a microscale … Rather, contact also affects prejudice on a macrolevel, whereby people are influenced by the behavior of others in their social context. Prior research that has prioritized the interpersonal nature of contact has ignored its potential widespread impact. Even individuals who have no direct intergroup contact experience can benefit from living in mixed settings … These findings demonstrate the policy potential of contact at the context level, because it can be implemented via macrolevel contexts such as mixed schools, neighborhoods, and workplaces.' (p3999-4000)
The 2015 study 'Do Ethnically Mixed Classrooms Promote Inclusive Attitudes Towards Immigrants Everywhere?' by Germ Janmaat assessed survey data collected from over 100,000 13 and 14 year olds in 38 countries. In conclusion the author agued:
'On the whole, the results of this study suggest that ethnically mixed schools are well positioned to promote inclusive out-group attitudes among native students … in sum, this study suggests that policy makers should consider ethnic mixing as a strategy to promote more inclusive out-group attitudes'. (p819-820)