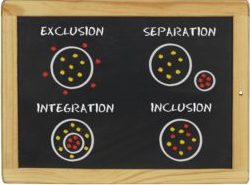 The National Association of SACREs has this week published a new report from the Accord Coalition highlighting good practices that Standing Advisory Councils on Religious Education (SACREs) can pursue. The report's findings draw from submissions to Accord's 2017 Inclusivity Award, which sought to discover the most inclusive SACREs in England and Wales. SACREs are the local authority committees that monitor and advise upon the provision of Religious Education (RE) and assemblies at locally maintained schools (including at all community schools and voluntary controlled faith schools).
Chair of the Accord Coalition and 2017 Award judging panel, Rabbi Dr Jonathan Romain, said 'The Award judges were presented with a wealth of information about practices being undertaken in England and Wales. Rather than lose these insights, Accord hopes its review into the 2017 Award findings will help to raise awareness of good practices discovered.
'Some SACRES are not where they should be, and there is need for wider investigation into the work of SACREs across the board. However, it is also clear from the 2017 Award that SACREs can help boost local standards and ensure RE and school assemblies remain relevant and popular.
'Accord is very grateful to those SACREs that applied for the Award and who revealed to judges challenges they had overcome. We similarly offer our thanks to NASACRE for helping bring the report to the attention of its members.'
In addition to explaining features about the winning SACREs that caught the eye of judges, the report cites a range of other practices identified that may assist SACREs in better fulfilling their potential. These include:
exploring joint working with other and nearby SACREs to pool resources and share expertise
ensuring that the SACRE's membership is inclusive of the non-religious as well as sizeable non-Christian denominations in the local area
maintaining relationships with local academies (which do not need to follow advice of the local SACRE, but may benefit from still doing so)
ensuring pro-active scrutiny of local school's provision of RE and assemblies, and feeding back findings to government
granting determinations that allow local schools to provide assemblies that seek to forge shared values and investigate ethical and moral values from a variety of sources, including religious and philosophical, without also having to provide worship
23 (13%) of England and Wales' 175 SACREs went as far as applying for the 2017 Award, with many more having seriously considered doing so. The winners were announced in February. Accord's report – authored by its National Coordinator, Paul Pettinger – can be found on NASACRE's 'Useful documents' webpage here.