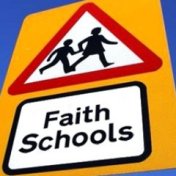 Perceived prestige of religiously selective schools means faith school sponsors are not taking steps to make the schools more inclusive, claims the Accord Coalition for Inclusive Education. Accord's comments follow publication this week by The Sunday Times of a list of 500 state funded schools in England which have achieved the highest exam marks. Of the top 100 primary schools listed, 48 are faith schools and all but 3 operate a religiously selective admissions policy.
Research repeatedly finds a very strong link between faith schools operating a religiously selective admissions policy also admitting a more socially advantaged intake, which in turn boosts the schools' exam performances and makes them more desirable. However, while the discriminatory admission policies help to inflate exam results, they present faith school sponsors with a range of reputational risks.
These include incentivising families to be insincere about their religious beliefs or commitment to gain access to the schools, and skewing the schools towards serving pupils from affluent backgrounds. This distorts the mission of many Church schools, most of which were established to educate children from poor families. It also means religiously selective schools are adding socio-economic divisions to the religious and ethnic ones many faith schools create.
Chair of the Accord Coalition, the Revd Stephen Terry, said 'Religious selection in school admissions is creating a vicious circle of elitism and religious cheating, which most faith school sponsors are showing themselves too conflicted to tackle. Meanwhile faith schools that are bringing together pupils and parents from different and deprived backgrounds are being overlooked.'
'Religiously selective admissions arrangements are having a corrosive impact. Faith school sponsors should be phasing out the use of such discriminatory admission policies at their schools. In the absence of this leadership, it is becoming more and more clear that the Government and Parliament must intervene.'
Fr Terry added 'It is particularly disheartening national Church of England officials are still 
championing
 their elitist religiously selective schools, rather than encouraging them to reform. This runs counter to 
comments
 from the Archbishop of Canterbury in December that he opposes schools selecting pupils by faith and wishes Church of England schools to be "homes and nurseries of integration" and have a "laser-like focus on the poorest and most deprived". The complacency is especially irresponsible given the increasingly divided times in which we live and the continued rise of many of forms of extremism.'
Notes
Last November the Accord Coalition released the report 'Mixed Signals: The discrepancy between what the Church preaches and what it practises about religious selection at its state-funded schools'. Despite national Church of England (CofE) spokespersons claiming that their schools seek to serve their local community, the report found many CofE schools operated a religiously selective admissions policy and revealed the very large majority were not being advised or even encouraged by Church authorities to refrain from such selection. The report's recommendations have still not been acted upon by Church officials.
Religious selection open to abuse
A 2015 survey commissioned by ITV revealed that of parents of primary school aged children:
12.6% admitted to having pretended to practice a faith in which they did not believe to get their child into a desirable faith school
23.7% said they would if they had to do so
13.7% said they had baptised their child purely to gain a school place
A 2018 study by the education charity The Sutton Trust, 'Parent Power 2018', found attending religious services to be the most common 'ethically dubious' strategy employed by families in England to secure admission to a preferred school. A similar survey conducted by the Trust and published in 2013 suggested parents from higher socio-economic groups were more likely to admit to attending church services, when they did not previously, so their child could go to a faith school.
Awareness of how popular faith schools can be used to boost local religious engagement has grown. A 2014 Church of England commissioned study into growing churches found that having a popular Church school nearby which rewards children from families who attend Church can be a key way to develop parishes. It found 'The results for church growth are interesting. Here the Church school has a keyrole … The most direct impact on attendance may be felt in areas where a popular C of E school is over-subscribed. Some churchgoing is clearly motivated by a desire to qualify for school admission' (p23-24). The study went on to acknowledge 'Middle class suburbs with church schools … offer great opportunities [for growth]' (p26).
Religious selection leading to indirect socio-economic selection
2013 research from the Fair Admissions Campaign found that non-religiously selective faith schools in England admitted 1% fewer children entitled to free schools meals than would be expected if they admitted local children. Faith schools with a religiously selective admission policy however typically found to admit 30% fewer such children. The findings can be found at the 'Overall averages' page at http://fairadmissions.org.uk/map/. A briefing has also been made available at http://fairadmissions.org.uk/wp-content/uploads/2013/12/Fair-Admissions-Campaign-map-in-depth-briefing.pdf.
An August 2018 study commissioned by the Department for Education revealed that both minority ethnic and economically deprived families have a significantly reduced chance of getting their children into state funded Church schools. Although the report was not clear what caused these differences, it found '… possible explanations must focus on the admissions practices of Church schools' (p35). It further noted 'these findings imply that the patterns of segregation in Church schools are not explained by [parental] preferences, and are, at least in part, due to children failing to gain admission at chosen schools'. (p38).
Relationship between the social and ability profile of pupils admitted and exam performance
It has long been established that the stronger exam performance at faith schools is accounted for by the social and ability profile of their pupils: