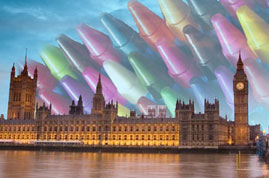 The Accord Coalition has accused the Government of undermining the acceptance of LGBT people by advising that independent schools teach about LGBT people but only where the schools consider it 'age appropriate'. The advice has been made in newly published guidance today on how independent schools can meet the statutory 2014 Independent School Standards Regulations. It follows publication by the Government in February of Relationships and Sex Education guidance which effectively makes covering LGBT content optional for primary schools.
Chair of the Accord Coalition, the Revd Stephen Terry said 'The phrase "age appropriate" is open to wide interpretation. The references to it in the guidance dilute the existing requirement that independent schools promote respect for LGBT people and effectively makes it meaningless. Anyone who chooses to do so can justify editing LGBT people out by hiding behind their interpretation of this term.'
'The new guidance humiliates just about everybody: Ofsted, who have quite rightly been placing expectations on independent schools on how they address LGBT content; teachers at all levels who wish to promote the acceptance of LGBT people, but who will now be anxious and uncertain about the extent to which they will be supported in doing so; and particularly families and students, who should be supported in an open and accepting environment, but instead have been given yet another obstacle to negotiate in their quest for fair and equal treatment.'
'The Department for Education (DfE) seems to have capitulated to campaigns such as the recent high profile and ongoing controversy concerning the provision of the No Outsiders programme in Birmingham. Most teachers are committed to promoting inclusivity in our school communities. They are are entitled to expect moral and regulatory support in doing so. This latest guidance was a golden opportunity to provide it. Instead the DfE has spinelessly given an opportunity and excuse to those who wish our schools marginalise LGBT people.'
'This is yet another example of a Government announcement which potentially inhibits inclusivity within the school system. The latest guidance breathes fresh life into the negative legacy of Section 28. This is deeply disappointing and irresponsible.'
Back in February the Accord Coalition co-organised with the Sex Education Forum and Humanists UK an open letter to the Education Secretary from 54 religion and belief leaders, educationalists and LGBT rights advocates, who urged the DfE to not weaken rules requiring independent schools to cover LGBT content. It followed media reports that the move was being considered, as well as about spurious legal threats that requiring schools to cover LGBT content is illegal.
Today's new guidance lists the existing requirement that independent schools 'encourage respect for other people, paying particular regard to the protected characteristics set out in the Equality Act 2010' (three of the Act's nine characteristics include sexual orientation, sex and gender reassignment). In advising how schools should meet this requirement the guidance notes:
"It is not sufficient for a school to say that it meets this standard because its teaching and other activities encourages respect for all people in a general way; that is not paying particular regard to protected characteristics of which, in an [sic] pupils must be made aware (although only to the extent that it is considered age appropriate)." (paragraph 3.17, p23)
A reference to the Government expecting children of secondary school age to know about the protected characteristics and which encouraged children of primary school age to know about how people were different on these grounds was contained in the Government's original draft guidance. These references have been conspicuously removed in the final published guidance.