The former Secretary of State for Education and Skills, The Rt. Hon Charles Clarke, has called for Religious Education to be made a nationally determined subject by making the Government's current non-statutory guidance on the teaching of Religious Education a statutory document.
Speaking at an event co-hosted by the Accord Coalition and University College London yesterday exploring the role of religion in education, Mr Clarke said that the teaching of Religious Education in some schools could be 'misleading' and used his own family's experience of moving from London to Norfolk, where his children received a far narrower education about religious and non-religious beliefs, to demonstrate how the current arrangements for RE could lead to RE teaching of a variable quality and cause problems for pupils and staff moving schools.
Religious Education is currently in the anomalous position of being part of the compulsory curriculum in schools, but is not part of the National Curriculum. Instead most faith schools can follow their own RE syllabus, whereas other state funded schools follow a syllabus determined by their local authority responsible for education.
'The non-statutory national framework for Religious Education' was produced in 2004 by the Qualifications and Curriculum Development Agency for the Government, with the support of the main RE professional organisations and most of the country's main religion and belief groups, including the Church of England, Catholic Education Service, the British Humanist Association, Muslim Council of Britain and Board of Deputies of British Jews.
Mr Clarke also said that the current arrangements for Collective Worship in state funded schools, where almost all schools are required to provide daily worship of a wholly or mainly of a broadly Christian character, should be changed.
Chair of the Accord Coalition, Rabbi Dr Jonathan Romain MBE, said the 'the non-statutory national framework for Religious Education is a flexible, popular and widely accepted template, which recommends that RE should have an educational and inclusive approach, and since it was introduced the number of pupils studying RE at GCSE has boomed.
'Only last year Ofsted found in their report "Transforming religious education" that there was "very significant variability in the quantity and quality of support for RE provided to schools by local authorities", that since 2007 the standards of RE provision in secondary schools had fallen and that the Department for Education should review the current local arrangements for Religious Education in England.
'We therefore wholeheartedly agree with Charles Clarke's suggestion and urge the Government to make its non-statutory guidance on the teaching of Religious Education statutory. This would help ensure that pupils received a high quality and broad education about religious and non-religious beliefs, helping to better prepare them for life in our increasingly diverse society, as well as also help to enhance the standing of Religious Education in schools yet further.
'We also welcome Mr Clarke's call for the arrangements around Collective Worship to be changed. The current laws around collective worship are unpopular, widely flouted and infringe upon children's rights. Assemblies provide schools with a very important opportunity to consider ethical and moral questions, as well as investigate and forge shared values. Schools should provide assemblies that are genuinely inclusive, and by allowing them to operate in a more workable legal framework more will choose to provide them.'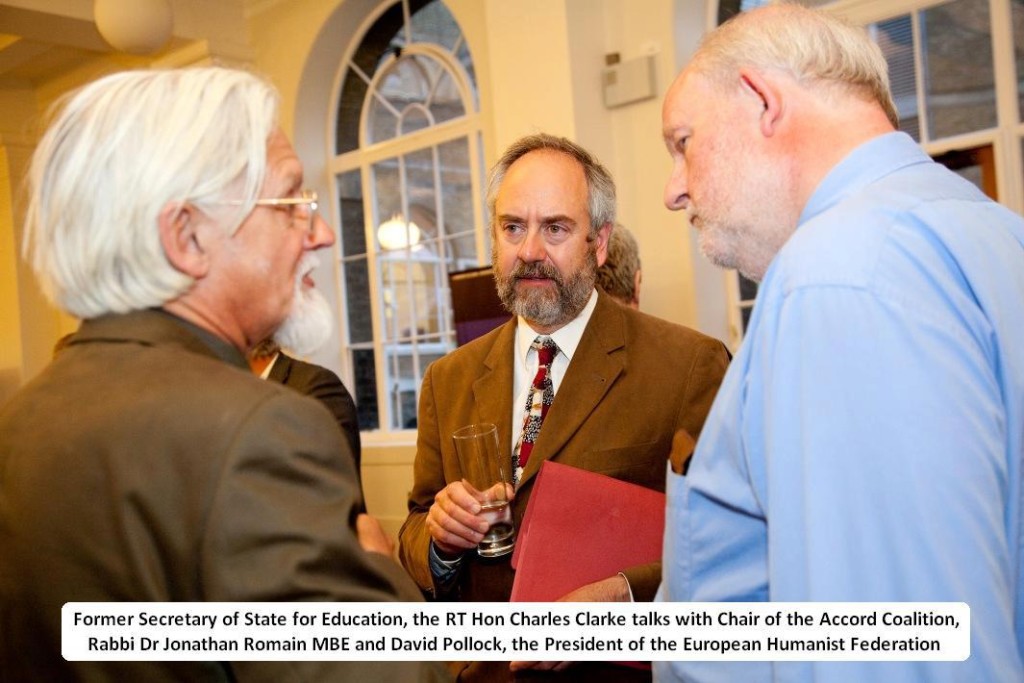 Also speaking at the event organised to mark the 140th anniversary today of the University Tests Act, which brought to an end Universities in the UK baring students and staff involved in non-theological courses on the grounds of religion, were Dr Muhammad Abdul Bari, Secretary General of the Muslim Council of Britain from 2006 to 2010, and Andrew Copson, Chief Executive of the British Humanist Association.
Dr Bari argued that teaching about religion in schools could inspire children, and that while the choice of parents and communities should be considered in the education system, the critical autonomy of children should be respected by schools and the teaching of Religious Education should be made more pluralistic and inclusive.
Mr Copson argued that the education system failed to properly respect the rights of children, who should not be treated as merely the property of their parents, but as inheritors to humanity's wealth of cultural and philosophical knowledge, and be exposed to different ways of the thinking in schools, which may challenge those held in the home and that are presented by popular culture.
Notes

In 2003/04 123,478 pupils were entered for Religious Education at GCSE in England. In the academic year 2009/10 this had grown to 176,301.
Ofsted's '2002-03 annual report – secondary education' stated that four-fifths of secondary schools do not hold a daily act of collective worship for all pupils.
An Early Day Motion commemorating the 140th anniversary since the of the University Tests Act was enacted into law and regretting that religious discrimination in pupil admissions and teacher employment, as well as mandatory worship and religious instruction, still pervade the state funded school systems of the UK has been tabled by Accord Coalition supporter Julian Huppert MP.
The 'Religion in education: Towards division or inspiration?' event will available to watch online in six days time at http://www.youtube.com/ucltv.