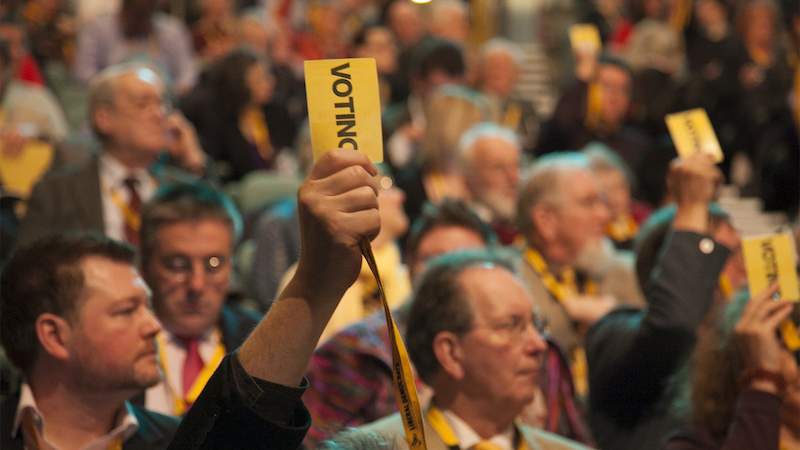 The Liberal Democrats have adopted new policy calling for religious selection in pupil admissions at state funded faith schools in England to be phased out completely. The motion, passed at the Party's Spring Conference last week, further calls for RE to be added to the English National Curriculum and for the subject to cover all 'major religious and non-religious viewpoints'. The new policy states that any Religious Instruction (RI) state funded faith schools provide should be kept separate from RE and that 'suitable activities' be provided for any pupils withdrawn from RI.
Currently, most state funded faith schools determine what they teach about religious and non-religious beliefs and can choose the inspectorate that looks at the RE and Collective Worship they provide. The motion has also reaffirmed pre-existing Lib Dem policy to repeal the laws that require state schools to provide daily Collective Worship, and to prevent state funded faith schools religiously discriminating in the recruitment and employment of teachers not tasked with providing RI.
The Liberal Democrats new policy was welcomed by the Chair of the Accord Coalition, Rabbi Dr Jonathan Romain, who said 'Political leaders of all colours should recognise that religious discrimination is out of step with mainstream values, and that schools are one of the very worst places where it should be tolerated. If we want a society that is integrated and where people are free from discrimination then we must ensure that our schools build bridges, not barriers, and treat people fairly.'
An October 2018 opinion poll commissioned by Accord found that the public opposed religious selection in pupil admissions at state funded schools by a ratio of over four to one. Such faith discrimination was also opposed by a large majority of adherents of all the largest Christian denominations and major world faiths in Britain. The Liberal Democrat's new policy is reproduced below:
The Role of Faith in State-Funded Schools
Conference believes that:
Religious communities make a valuable contribution to the cultural life of the UK, and religious organisations have played a major historic role in broadening access to education.
Children should not be taught to hold or to reject religious or non-religious beliefs against the wishes of their parents, and religious instruction should not be funded by the state.
Children of different racial, religious, cultural and socio-economic backgrounds should be able to benefit from mixing together from an early age.
There is a wide range of ethos underpinning schools across the country as a result of different organisations being allowed to sponsor state schools.
Every child should receive a balanced and non-directive education about religion, belief and ethics.
Conference further believes that:
Where different bodies are allowed to sponsor state schools, religious organisations should not be discriminated against in so doing.
There continues to be a place for state schools with a religious character.
There is a distinction between educating children about religions and their practices ('religious education') and teaching children to follow a particular religion ('religious instruction').
Religious education in all state-funded schools should cover religious and non-religious world views, should be about people's beliefs and practice and their ethical and moral standpoints, and should be taught in a non-directive way.
Where religious instruction, worship or other religious practice takes place in state-funded schools it should not be compulsory, and meaningful alternative activities should be offered.
Teaching and other staff of state-funded schools (other than those who are mainly or exclusively responsible for providing religious instruction) should not be employed, dismissed, promoted, demoted or otherwise discriminated against on the basis of their protected characteristics under the Equality Act.
Lack of social cohesion and social tensions with a religious aspect have a number of causes including segregated housing, all of which need to be tackled, but that segregation of school children, based on religion, can also be a contributory factor or cause of communities failing to integrate or growing apart.
Conference therefore calls for a new approach to state-funded faith schools which:
Ensures that religious education in all state-funded schools:

Is kept separate from any religious instruction.
Covers all the major religious and non-religious viewpoints.
Is part of the party's proposed slimmed-down national curriculum, appropriate to local circumstances.
Is included in inspections by Ofsted.

Ensures that staff in faith schools are employed only on the basis of merit, with exemptions to allow candidates' beliefs to be a factor in recruitment only for those staff who are mainly or exclusively responsible for providing religious instruction.
Allows state-funded schools to hold acts of worship and provide religious instruction, but repeals the existing legal requirement for all state-funded schools to hold acts of collective worship, and for non-religious schools to hold acts of worship of a broadly Christian character.
Requires schools to ensure that any act of worship and any religious instruction is optional for members of staff directly employed by the school, and for pupils who are mature enough to decide for themselves and otherwise for parents, and that suitable alternative activities are provided for these pupils.
5. Ensures that selection in admissions on the basis of religion or belief to state-funded schools is phased out over up to six years.
Applicability: England.