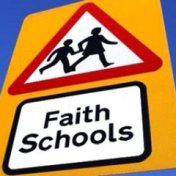 Attempts by members of Peterborough City Council's Education Committee to scrutinise plans for a new discriminatory Catholic school in the area have been frustrated by the Committee's Chair. At a meeting of the Committee last week Councillors considered a report from the Council's Director of Education about the proposed school and a consultation about the plan held by the local Roman Catholic Diocese of East Anglia. However, the Committee Chair directed Councillors to debate the Council's decision making process and repeatedly ruled out questions from opposition Councillors regarding the appropriateness of the proposed school.
Questions ruled out included ones from a Catholic Labour Councillor who was concerned about religious discrimination in pupil admissions and the leader of the Lib Dem Council group, Cllr Nick Sandford. The Peterborough Telegraph reports that in response Cllr Sandford complained at the meeting that many local residents held 'grave concerns' about religious discrimination and that if the Education Committee was not able to offer recommendations about the school proposal it could not do its job properly.
Chair of the Accord Coalition, the Revd Stephen Terry, said 'It is very disappointing Councillors have been impeded in scrutinising and sharing their views on the plans, especially when the Council is relying heavily on a consultation about the proposed school conducted by the Diocese, which has a vested interest. We urge the Council to consult more widely. Limiting scrutiny in this way only inhibits informed decision making and consequently risks undermining acceptance of any decision the Council takes.'
If the proposed school opens it will become the first new school in nearly a decade that has been funded by central government and able to operate a fully religiously selective admissions policy. However, because the proposal is for a local authority maintained voluntary aided school, not an academy, consent from the local authority is required before it can open.
The Council's lead Councillor for education has until February 19th to make a decision about the bid and if by they then they are still undecided the matter will be referred to the Office of the Schools Adjudicator. Last month a local petition against the proposed school has been set up on the Council's website.