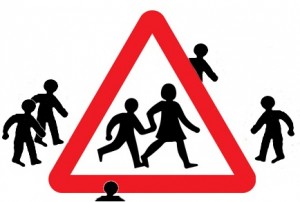 A Church of England report has promoted using its schools as one of the main tools to boost evangelism and church attendance amongst children. The study 'Children and Youth Ministry' has been written by the Church's Evangelism and Discipleship Team for a meeting of its governing General Synod next month.
The report finds that between 2014 and 2018 average Sunday attendance dropped by 7%, but by 15% amongst children (p7). The paper examines, through statistical and other analysis, ways that churches may be more successful in admitting young people and lists drawing '… stronger links between schools, churches and families' as one of its main recommendations. (p4)
It notes the '… huge numbers of children we are in direct contact with through schools and the need to make better connections between church and school' and praises the example of one church for its engagement with local schools and 'talking to 4,500 children each month'. (p4) As well advocating churches evangelise via schools, the authors commend as a way to boost church attendance Church schools operating an admission policy that rewards pupil places to families with a record of church worship.
They observed that 'of the 903 [6.4%] parishes with 25 or more under 16s 360 (40%) had a strong link to an affiliated Church of England School' (p4). They went onto highlight 'of the 396 parishes which have 25 or more under 16s and no employed youth, children's or families worker, 292 (74%) have strong links to an affiliated Church of England School. The role that school links and subsequent school admissions make on under 16's attendance cannot be overlooked … while attendance impacted by school admission could easily be dismissed, it highlights an enormous missional opportunity with large quantities of these 5-11's attending church for several years.' (p25) No information was provided about the rate at which young people stopped attending Church when attending was no longer advantageous for gaining admittance to a school.
Recommending that dioceses promote religiously selective admission policies is at odds with inclusive statements made by senior Church officials in recent years. This includes the Archbishop of Canterbury, Justin Welby, who revealed in December 2017 that he opposed Church of England schools selecting pupils by faith. The Evangelism and Discipleship Team are a directorate within the Archbishop's Council, along with the Church of England's Education Office.
Chair of the Accord Coalition for Inclusive Education, the Reverend Stephen Terry, said 'The comments about schools are deeply disappointing and inappropriate. The report not only accepts that some families attend church solely to boost the chances of their child gaining access to a Church school, but also implicitly encourages Church schools to set admission criteria that encourage such religious cheating. It is time to put an end to this dishonest practice. It is disturbing that the Church shows no inclination to do so.'
'These comments are also at odds with public pronouncements by Church education officials stating that Church schools are open to everyone, not just to Christians. Such inconsistency provides yet further ammunition for cynics wishing to paint the Church as simply providing schools as an easy source of pew fodder, rather than for open and inclusive education.'
'These comments are insensitive, poorly judged and reputationally damaging. They should be set aside. There is an urgent need to debate who it is that Church of England schools should serve and how they can be made inclusive for all, regardless of faith. It is shameful that on this evidence the Church is disinclined to acknowledge the reality of a diverse society, preferring instead to stick to a system which is unfair and socially divisive.'
Notes
'Children and Youth Ministry' is to be considered by the General Synod on Wednesday February 12th. In response the Synod is due to vote on a motion urging dioceses to target boosting church attendance amongst young people and commissioning the Evangelism and Discipleship Team to produce another report in two years, to monitor progress. The agenda for the Synod's February meeting can he found here.
Church of England dioceses are the Church bodies with legal responsibility for issuing their schools with guidance regarding religious selection in admissions. By encouraging dioceses to promote policies that reward families with a record of church attendance, the report directly undermines attempts to ensure the Church of England school sectors operate less discriminatory admission arrangements.
In 2017 Accord investigated the extent to which dioceses enacted repeated claims that Church of England schools did not seek to serve Christians ahead of other local families in its study 'Mixed Signals'. The report found only 1 in 8 dioceses advised their schools to not select pupils by faith, 1 in 4 explicitly advised them to reserve some places on these grounds while, overall, school autonomy was prioritised over inclusivity. 'Children and Youth Ministry' torpedoes claims that the Church is encouraging its state schools to be more inclusive of all children, irrespective of religion or belief, and risks setting back progress even further.