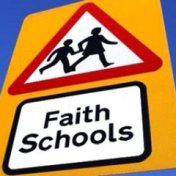 A faith school criticised and downgraded by Ofsted for segregating pupils by religion and gender is considering legal action. The King David High School in Manchester had previously been awarded Ofsted's highest rank of 'outstanding', but has received its lowest rank of 'inadequate' in the inspectorate's latest report published this week.
The Jewish school operates in three sections, with one for boys (Yavneh Boys) and another for girls (Yavneh Girls) that provide these pupils with a greater focus on religious teachings. Ofsted's latest report makes repeated criticism of the school's Yavneh sections, which it found provided pupils with a more limited curriculum and denied them other educational and social benefits from inhibiting them from mixing with the opposite sex.
In particular, pupils in the Yavneh sections were found to spend less time on creative subjects and did not study about another faith at GCSE. The report concludes that the different treatment of pupils constituted "direct discrimination contrary to the Equality Act 2010 and breaches the school's public sector equality duty".
The report follows a landmark Court of Appeal ruling in 2017 which found a faith school that permanently separated its pupils by gender had unlawfully discriminated against pupils on these grounds. Some schools that routinely segregate pupils by gender have or are seeking to split into single sex schools. This week's Jewish Chronicle reports however that King David High School is "likely" to launch an appeal regarding its latest Ofsted inspection.
Chair of the Accord Coalition for Inclusive Education, the Reverend Stephen Terry, said "Pupils should be entitled to a balanced and inclusive education regardless of the kind of school they attend. Most state funded faith schools still have extensive and unnecessary exemptions that permit them to provide a narrow curriculum and to religiously discriminate in teacher employment and pupil admissions. It is therefore all the more important and right that unlawful discrimination at state funded schools should be highlighted and tackled."
Notes
The Accord Coalition has previously criticised Ofsted for having issued guidance to inspectors that they should not consider gender segregation in faith schools "… as a sign of inequality between different genders." The guidance was eventually removed in 2014.