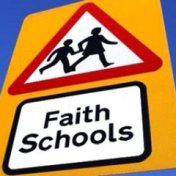 A Freedom of Information (FOI) request response to the Accord Coalition for Inclusive Education has revealed a big drop in the financial contribution that discriminatory faith schools make towards the schools' running costs. Given that the faith school sector has become almost entirely funded by the taxpayer, the Accord Coalition is calling for society to have a greater say in how the schools operate.
The Department for Education FOI response reveals that ten years ago in the 2009/10 financial year voluntary aided schools were found to have contributed £67,290,000 towards their capital funding from central government. In the 2018/19 financial year however the figure has dropped to only £18,089,579, with these schools and their providers now regularly contributing less than £20 million a year towards the costs of the schools.
Chair of the Accord Coalition, the Revd Stephen Terry, said 'Discrimination in any walk of life is unacceptable, especially in the field of education. It is therefore disgraceful that, with no public debate, discriminatory faith schools have effectively seen a significant increase in their public subsidy over the last decade.'
'The arguments previously made to justify faith schools both operating religiously discriminatory pupil admission policies and not teaching about other beliefs, on the grounds that they and their providers help support their running costs, is increasingly irrelevant.'
'Accord has long called for reforms that ensure state funded schools better promote mixing and mutual understanding between people of different religions and beliefs. These findings should trigger a fresh debate about how faith schools are operating. In our increasingly diverse society faith schools must become more inclusive of those with different beliefs.'
Unpicking of the 1944 political settlement
Faith schools were brought into the state funded school system in England and Wales by the 1944 Education Act. The Act created two types of state funded faith school: voluntary aided (VA) which have historically comprised most faith schools, and voluntary controlled (VC).  Faith schools comprise over a third of state funded schools in England and the vast majority of voluntary schools.
VA faith schools can determine the kind of Religious Education (RE) they provide and can religiously discriminate in their pupil admissions policy and in the recruitment and employment of all their teachers. VC faith schools meanwhile must follow a RE syllabus determined by their local authority, which usually require the teaching about a range of religions and beliefs. The admissions policy of VC faith schools are also determined by their local authority, which normally do not permit the policies to be religiously discriminatory. The schools can only religiously discriminate in the recruitment and employment one fifth of their teachers.
Another key difference is in their funding. VA faith schools have been required to contribute towards the capital costs of their buildings and are the only type of state funded faith school that must make any contribution towards their own costs. This contribution has been used to justify such schools being able to operate in more narrow and discriminatory ways.
Originally VA schools were supposed to meet 50% of their capital costs but, over time and with no public debate, this figure has reduced. Although it largely escaped public scrutiny, The Regulatory Reform Order (Voluntary Aided Schools Liabilities and Funding) 2002 reduced the contribution that VA schools have to make towards their capital expenditure from 15%, to 10%, and to less than 10% in exceptional circumstances.
Meanwhile in 1998 Foundation schools were created and in 2000 Academy schools, both of which have their full running costs met by the state. The number of faith academies has risen dramatically over the last decade, with those that were formerly VA schools no longer having to contribute to their own costs and VC faith schools gaining extra freedom to operate in religiously exclusive ways, including most of those possessed by VA faith schools.
Over the last decade overall capital spending on schools has been reduced by the Government. In 2012 it announced that VA faith schools would no longer have to contribute towards any spending from a new and one of its largest school building improvement funds, the Priority School Building Programme. These factors, combined with more and more VA faith schools becoming academies, has contributed to the very large drop in the capital cost contributions made by faith schools over the last decade. In turn this diminishes a key justification for them being permitted to exclude and divide. This decline is set out in the table below, based on the Department's FOI response.
| | | |
| --- | --- | --- |
| Financial Year | Amount of capital funding to VA schools to which the schools are required to contribute | The required contribution from VA schools |
|  2009/10 | £643,240,000 | £67,290,000 |
|  2010/11 | £341,950,000 | £35,370,000 |
|  2011/12 | £256,670,000 | £26,830,000 |
|  2012/13 | £220,230,000 | £23,400,000 |
|  2013/14 | £201,940,772 | £20,892,064 |
|  2014/15 | £216,303,140 | £20,032,016 |
|  2015/16 | £246,163,210 | £20,083,668 |
|  2016/17 | £295,914,567 | £19,615,530 |
|  2017/18 | £279,365,220 | £18,824,736 |
|  2018/19 | £236,546,914 | £18,089,579 |
Notes
The Department's response notes that VA faith schools may also receive 'Basic Need' capital funding via their local authority responsible for education. Basic need allocations are paid to local authorities to support the capital requirement for providing new pupil places locally by expanding existing maintained schools or academies, or by establishing new schools.
Any contribution towards this capital spending that local authorities may have required of local VA schools is not recorded by central government, but there is no obligation for local authorities to require VA schools to contribute to this stream of capital funding. As the Department's FOI response notes, local authorities '… may fund [these] works at 100% of the cost with no contribution from the governing body [of VA schools]'.
A November 2016 opinion poll undertaken by Populus commissioned by Accord found that state funded schools selecting pupils by faith was opposed by people in Britain by a ratio of almost five to one. A large majority of adherents of all major world faiths plus each of England and Wales' largest Christian denominations were similarly all found to oppose this faith discrimination.
The contribution that the governing body of VA faith schools make to their school's capital costs is typically not paid by the faith school provider but fundraised from parents by the school.