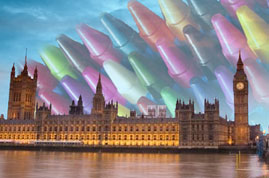 The Accord Coalition for Inclusive Education has criticised the UK Government for placating divisive faith school sponsors whilst ignoring the needs of England's increasingly religiously diverse society. The campaign's comment has been prompted by the Government last month opposing efforts to allow non-faith schools to provide religiously inclusive assemblies and it this week tabling an amendment to enable faith based sixth form colleges which become academies to provide religiously narrow teaching and appoint Governors on faith grounds.
Chair of the Accord Coalition, the Revd Stephen Terry, said 'It is very disappointing that the Government is squandering the chance to make the English school system more fit for purpose by adapting it in response to Britain's changing religious profile. Instead the priority seems to be to placate some faith school sponsors by boosting their sense of control over schools.'
'This is seriously misguided. The school system has everything to gain from dealing with religious issues in ways that are relevant and inclusive. The proposed course of action will instead frustrate reform, meaning that schools will make a less effective contribution towards the spiritual and moral development of students, making them less prepared for life in modern Britain.'
'If the Government does not wish to inhibit the development of students or undermine social cohesion, it should re-evaluate its current approach. All schools should better serve the needs of our increasingly diverse society, thus helping to drive forward the process of levelling up which is much on everyone's mind at present. Pandering to the status anxiety of some faith school providers must not be allowed to hinder this.'
In September a Private Members Bill seeking to replace the laws that demand daily Christian worship in English community schools with instead a requirement for religiously inclusive assemblies, passed its second reading in the House of Lords. The Bill is however opposed by the Government, so is not expected to become law.
This week meanwhile the Government tabled an amendment to ensure faith based sixth form colleges that become academies can provide denominational Religious Education and Collective Worship, as well as religiously select their Governors. The amendment has been proposed by education minister Baroness Barran and seeks to change the Government's Skills and Post-16 Education Bill.