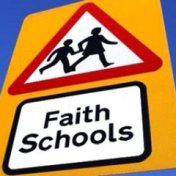 The Accord Coalition has warned the Government not to overlook the damaging social and political costs that would be incurred if it allowed faith schools to cause greater religious discrimination and segregation. The caution has been offered in response to comment in the House of Commons this week from the new Education Secretary, Gavin Williamson, that he will be looking 'closely' at whether to drop the Government's policy that limits faith free schools from not religiously selecting more than half of their pupils.
The Education Secretary offered his comment in a response to a plea from the Conservative backbench MP, Sir Edward Leigh, to enact a 2017 Conservative manifesto commitment to scrap the 50% cap. The cap had been introduced by the Conservative led Government back in 2010 and purposely maintained by the majority Conservative Government under David Cameron after the 2015 General Election.
The Government decided against scrapping the cap in April 2018 after consultation and when doing so became associated as one of a number of unpopular policies that seriously undermined the Conservative's performance during the 2017 General Election campaign. An opinion poll in May 2017 conducted by Populus and commissioned by Accord found a startling 80% of voters preferred that the cap be maintained, rather than dropped.
Chair of the Accord Coalition, the Reverend Stephen Terry, said 'Segregating children and young people according to their religious and ethnic background seriously and inevitably damages community cohesion. The last thing our increasingly divided country needs is for Government policy to add to that division.'
'We urge the Government to ignore siren calls to turn the clock back, and instead encourage greater mixing in schools, making sure that existing faith schools are completely religiously inclusive and non-discriminatory. Neither current nor future generations will thank us if we bequeath a legacy of greater fragmentation and division.'
Notes
A November 2016 Populus opinion poll commissioned by Accord found that state funded schools selecting pupils by faith was opposed by people in Britain by a ratio of almost five to one. A large majority of adherents of all major world faiths plus each of England and Wales' largest Christian denominations were similarly all found to oppose this faith discrimination.
Accord has set out some of the wealth of research highlighting the positive impact from religious mixing in schools here.
In 2010 the Coalition Government implemented a 50% religious discrimination in admissions cap for new free schools (free schools are a type of academy school). It is still possible for other types of school to open in England, and the Government is currently trying to have opened a fully selective voluntary aided faith school in Peterborough. However, the launch of the free schools programme was followed in 2011 by the introduction of a legal presumption that almost all new state funded schools should be free schools, meaning almost all new faith schools that have opened since then in England have been free schools subject to the cap.
In 2015 the Conservative Government told Accord it would be continuing with the faith free school discrimination cap '… as an important way of supporting these schools to be inclusive and to meet the needs of a broad mix of families.' In May 2017 the Conservative Party manifesto committed a Conservative Government to scrapping the 50% policy and was justified on the spurious grounds that the cap prevented any Catholic school from being opened.